Rock Rose Helianthemum Bunbury (2Ltr Pot)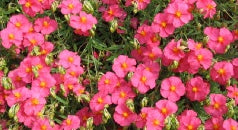 Rock Rose Helianthemum Bunbury (2Ltr Pot)
Helianthemum Bunbury - Description
Latin Name: Helianthemum nummularium
Common Name: Rock Rose
Other Names: Bunbury Rock Rose
Indoors or Outdoor: Outdoor
Size: 20-30 cm in height
Helianthemum Bunbury - Delivery
Delivery Info: Our Helianthemum Bunbury plants are carefully packaged and shipped to your doorstep. You can expect your order to arrive within 5-7 business days.
Helianthemum Bunbury - Characteristics
Mature Size: 20-30 cm in height, spreading up to 60 cm
Evergreen or Deciduous: Evergreen
Preferred Position: Full sun
Shape - Plant Characteristics: Low-growing, mounding habit with bright green foliage and vibrant yellow flowers
Hardy or Not Hardy: Hardy
Diseases: Resistant to most common garden diseases
Helianthemum Bunbury - Uses
Uses in Garden: Helianthemum Bunbury is perfect for rock gardens, borders, and ground cover. Its vibrant flowers attract pollinators, and it adds a pop of color to your outdoor space.
Helianthemum Bunbury - Planting Characteristics
Preferred Planting Aspect: Helianthemum Bunbury thrives in a sunny location.
Is it Frost Hardy: Yes, it's frost hardy.
Fast or Slow Growing: Fast-growing, expect it to fill in your garden space nicely.
Pruning Advice: Prune after flowering to maintain a neat shape and encourage new growth.
Helianthemum Bunbury - Planting Instructions
Sowing Time: Plant in spring or early autumn.
Instruction: Dig a hole twice the size of the root ball and mix in some well-rotted compost. Place the plant in the hole, backfill, and water thoroughly.
Trench Preparation: Not necessary for this plant.
Positioning of Plants: Space Helianthemum Bunbury plants 30-45 cm apart.
Plant Spacing: 30-45 cm.
Pruning Instructions: Prune lightly after flowering.
Facts About Helianthemum Bunbury
Helianthemum Bunbury, also known as Rock Rose, is a low-maintenance, drought-tolerant plant.
It produces an abundance of bright yellow, saucer-shaped flowers in late spring and early summer.
This plant is excellent for attracting butterflies and bees to your garden.
Helianthemum Bunbury is adaptable to various soil types but prefers well-draining soil.
It's a perfect addition to xeriscape gardens due to its water-saving qualities.
In stock, ready to ship

Inventory on the way
We operate our own delivery service within 12km of the garden centre for €15, for this service we can deliver you any item from Windyridge. 
Outside of this radius we out source couriers, we cannot unfortunately ship a lot of bulkier items such as large pots, composts and many of our more delicate living things. 
An Post Delivery, Seeds & books - €1.50
Standard Parcel via An Post* €6.00
Local Delivery, 12km of Windyridge - €15.00
Pallet Nationwide** - €49.00**This will be automatically added to your cart for BBQ's and larger items