Phalaenopsis Scenza mix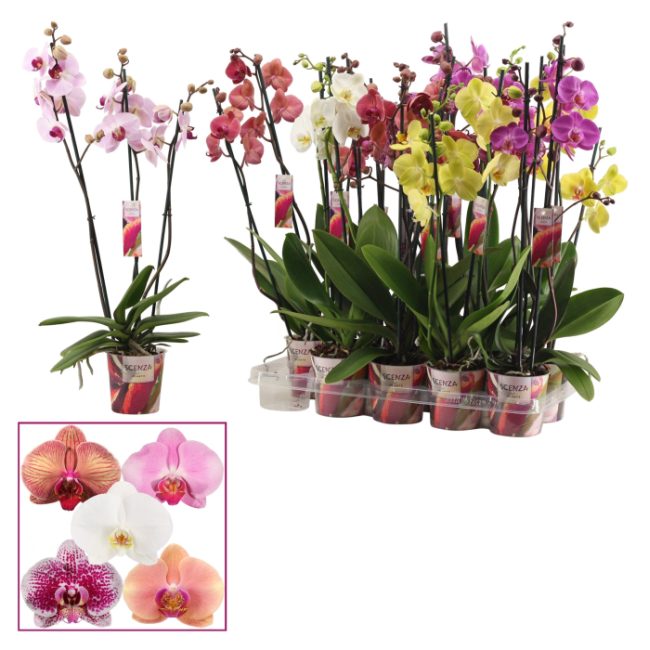 Phalaenopsis Scenza mix
Regular price
€1995
€19.95
Description: The Moth Orchid is one of the most popular variety and one of the easy growing orchids. It makes a perfect gift with its delicate flowers that can last for months. 
Once they finish flowering, cut the stem. They will re-flower! For a Phalaenopsis to flower again, it needs to be stressed. This is the reason why it often flowers in winter as the days are shorter.
Height: 0.3 x 0.1m
Light requirement: Bright to medium indirect sunlight 
Water requirement: Low. Water regularly, a little, with rain water preferably. Like all tropical plants, it will benefit from misting (leaves only to not leave marks on the flowers).
Soil: Bark, Very light (orchid mix)
Feeding: Every month from March to September with orchid feed
Minimum Temperature: 15°C
NB: Price per potted plant
In stock, ready to ship

Inventory on the way
We operate our own delivery service within 12km of the garden centre for €15, for this service we can deliver you any item from Windyridge. 
Outside of this radius we out source couriers, we cannot unfortunately ship a lot of bulkier items such as large pots, composts and many of our more delicate living things. 
An Post Delivery, Seeds & books - €1.50
Standard Parcel via An Post* €6.00
Local Delivery, 12km of Windyridge - €15.00
Pallet Nationwide** - €49.00**This will be automatically added to your cart for BBQ's and larger items