Organic living green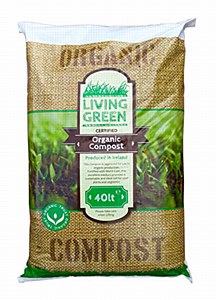 Organic living green
In September 2013 living green launched their certified organic compost. It is the only certified organic compost that is manufactured in Ireland.
An independent scientific plant trial indicated that our compost produced better and stronger plants that had higher fruit yields than the most widely available imported certified organic compost. It also out preformed a leading conventional multipurpose compost. These findings are reflected by the testimonies of those who have used it.
The compost is produced on their commercial worm farm and it is created when the worms digest their bedding material converting it into rich organic compost also known as "Worm Cast".
In stock, ready to ship

Inventory on the way
We operate our own delivery service within 12km of the garden centre for €15, for this service we can deliver you any item from Windyridge. 
Outside of this radius we out source couriers, we cannot unfortunately ship a lot of bulkier items such as large pots, composts and many of our more delicate living things. 
An Post Delivery, Seeds & books - €1.50
Standard Parcel via An Post* €6.00
Local Delivery, 12km of Windyridge - €15.00
Pallet Nationwide** - €49.00**This will be automatically added to your cart for BBQ's and larger items