Hummingbird Mint (Agastache Blue Boa)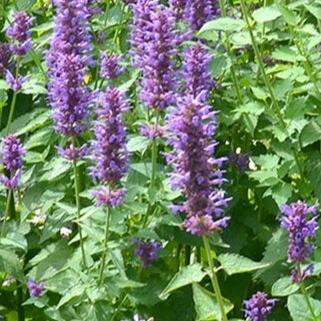 Hummingbird Mint (Agastache Blue Boa)
Agastache 'Blue Boa' is a delightful perennial known for its striking deep blue-purple flower spikes and aromatic foliage. This compact and bushy plant is not only visually appealing but also a magnet for pollinators, making it a valuable addition to any Irish garden.

Height/Spread: 'Blue Boa' typically grows to a height of about 60-80 cm (24-31 inches) with a spread of approximately 30-45 cm (12-18 inches). Its compact nature allows it to fit well in smaller garden spaces or as part of mixed borders.

Position: This Agastache variety thrives in a sunny position, enjoying full sun exposure for most of the day. In the Irish climate, it benefits from a warm and sunny location, preferably sheltered from strong winds, which can damage the delicate flower spikes.

Soil: 'Blue Boa' prefers well-draining soil with moderate fertility. It can tolerate a range of soil types, including sandy or loamy soils. Good drainage is crucial to prevent waterlogging, especially during the wetter months in Ireland.

Flowering Season: The 'Blue Boa' Agastache blooms from mid-summer to early autumn, producing an abundance of showy, violet-blue flower spikes. These attractive inflorescences not only add color but also attract bees, butterflies, and other pollinators to the garden.

Uses: This Agastache variety is versatile and offers multiple uses in the garden. Its vibrant flowers and aromatic foliage make it an excellent choice for ornamental purposes. It works well as a border plant, in containers, or even as a feature in rock gardens. Additionally, its ability to attract pollinators makes it a valuable plant for supporting local biodiversity.

Specify in the Irish climate: Agastache 'Blue Boa' is well-suited for the Irish climate, provided it is given the right conditions. In Ireland, it thrives in sunny positions, capitalizing on the moderate temperatures during the growing season. With its striking appearance and ability to attract pollinators, 'Blue Boa' can be a beautiful and environmentally friendly addition to Irish gardens, contributing to the overall health and vibrancy of the local ecosystem.
In stock, ready to ship

Inventory on the way
We operate our own delivery service within 12km of the garden centre for €15, for this service we can deliver you any item from Windyridge. 
Outside of this radius we out source couriers, we cannot unfortunately ship a lot of bulkier items such as large pots, composts and many of our more delicate living things. 
An Post Delivery, Seeds & books - €1.50
Standard Parcel via An Post* €6.00
Local Delivery, 12km of Windyridge - €15.00
Pallet Nationwide** - €49.00**This will be automatically added to your cart for BBQ's and larger items