GS Apple Maggot Trap Refill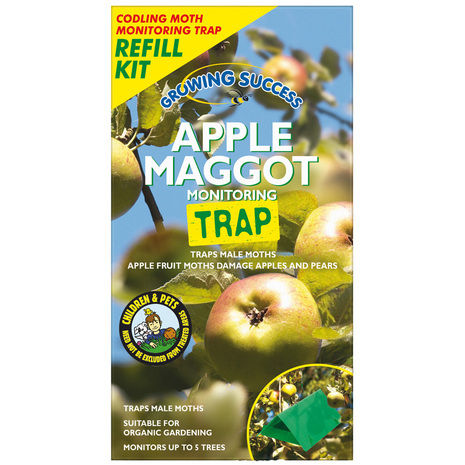 GS Apple Maggot Trap Refill
The Apple Maggot Monitoring Trap is perfect for tackling both apple and pear fruit moth damage.
Maggot damage in apples and pears is mainly caused by caterpillars of the codling moth. Females tend to lay eggs on the leaves and fruit, which hatch after 10-14 days. The caterpillars then bore into the fruitlets and feed on the fruit in early summer.
Each monitoring trap covers between three to five trees, luring the male moths and enabling gardeners to access the trap and treat with a suitable insecticide.
Apple Maggot Monitoring Trap:
Contains one pheromone lure
Has a strong corrugated trap with hanger
Separate refill pack available containing one lure
Male moths tend to fly and mate on warm nights, so the trap is best used from mid-May to the end of July.
Easy to use, simply unfold the sticky insert and place it in the base of the trap. Place the monitoring lure on the middle of the trap and hang it from a tree.
The trap will monitor moths for five average size trees up to 12 metres apart.
Low stock - 8 items left

Inventory on the way
We operate our own delivery service within 12km of the garden centre for €15, for this service we can deliver you any item from Windyridge. 
Outside of this radius we out source couriers, we cannot unfortunately ship a lot of bulkier items such as large pots, composts and many of our more delicate living things. 
An Post Delivery, Seeds & books - €1.50
Standard Parcel via An Post* €6.00
Local Delivery, 12km of Windyridge - €15.00
Pallet Nationwide** - €49.00**This will be automatically added to your cart for BBQ's and larger items