Grassy Leaved Sweet Flag (Acorus Gramineus Ogon)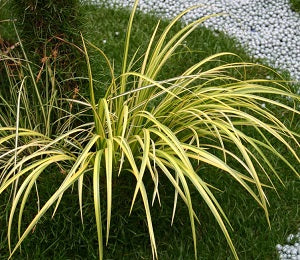 Grassy Leaved Sweet Flag (Acorus Gramineus Ogon)
Acorus Gramineus Ogon - Description

Latin Name: Acorus gramineus 'Ogon'
Common Name: Golden Variegated Sweet Flag
Other Names: Japanese Rush, Slender Sweet Flag
Indoors or Outdoor: Suited for both indoor and outdoor cultivation
Size: Typically reaches a height of 20-30 cm and spreads up to 30-45 cm.

Acorus Gramineus Ogon - Delivery

Delivery Info: We deliver healthy, established Acorus Gramineus Ogon plants directly to your doorstep, ready to enhance your garden or indoor space.

Acorus Gramineus Ogon - Characteristics

Mature Size: Compact and low-growing, ideal for ground cover or border planting.
Evergreen or Deciduous: Semi-evergreen, retaining its vibrant foliage year-round in milder climates.
Preferred Position: Thrives in partial shade to full sun, making it adaptable to various garden conditions.
Shape: Graceful, arching leaves with golden-yellow variegation, creating a stunning visual impact.
Hardy: Hardy in most climates, but may benefit from protection in severe winters.
Diseases: Generally disease-resistant, requiring minimal maintenance.

Acorus Gramineus Ogon - Uses

Uses in Garden: Perfect for edging water features, lining pathways, or adding color to rock gardens. Also suitable for container gardening.

Acorus Gramineus Ogon - Planting Characteristics

Preferred Planting Aspect: Enjoys moist soil conditions and can be planted near water features.
Frost Hardy: Generally frost-hardy but may need protection in severe cold spells.
Fast or Slow Growing: Moderately fast-growing, achieving full coverage within a few seasons.
Pruning Advice: Trim dead or damaged foliage as needed to maintain a neat appearance.

Acorus Gramineus Ogon - Planting Instructions in an Irish Climate

Sowing Time: Plant in spring or early autumn for best results.

Trench Preparation: Ensure the soil is well-draining and rich in organic matter. Create trenches for planting, spaced approximately 30-45 cm apart.

Positioning of Plants: Place Acorus Gramineus Ogon in the prepared trenches, ensuring they are level with the surrounding soil.

Plant Spacing: Space individual plants 30-45 cm apart to allow for healthy growth.

Pruning: Trim back any dead or damaged foliage in early spring to encourage new growth.

Facts About Acorus Gramineus Ogon

Native to Japan, this variegated sweet flag adds a touch of Asian elegance to your garden.
Its golden-yellow foliage brightens up any landscape, making it a popular choice for ornamental gardening.
Acorus Gramineus Ogon is low-maintenance, making it a great option for both novice and experienced gardeners.
Its unique coloration and hardiness make it a valuable addition to any garden or indoor plant collection.
Enhance your garden or interior space with the beauty of Acorus Gramineus Ogon. Order yours today and enjoy the elegance and low-maintenance charm of this remarkable plant. 
Low stock - 10 items left

Inventory on the way
We operate our own delivery service within 12km of the garden centre for €15, for this service we can deliver you any item from Windyridge. 
Outside of this radius we out source couriers, we cannot unfortunately ship a lot of bulkier items such as large pots, composts and many of our more delicate living things. 
An Post Delivery, Seeds & books - €1.50
Standard Parcel via An Post* €6.00
Local Delivery, 12km of Windyridge - €15.00
Pallet Nationwide** - €49.00**This will be automatically added to your cart for BBQ's and larger items