FUNGUSCLEAR ULTRA CONCENTRATE 225ml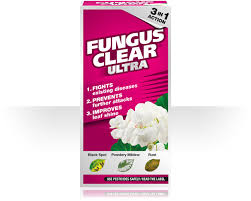 FUNGUSCLEAR ULTRA CONCENTRATE 225ml
Regular price
€2195
€21.95
Fungus clear ultra is a systemic fungicide. It helps treat fungal diseases that feed on living plants. Existing intections are stopped quickly. It acts systematically. This means that it works from inside the plant, to protect it against future attacks. Because it is enhanced with plant oils it will shine plant leaves.
In stock, ready to ship

Inventory on the way
We operate our own delivery service within 12km of the garden centre for €15, for this service we can deliver you any item from Windyridge. 
Outside of this radius we out source couriers, we cannot unfortunately ship a lot of bulkier items such as large pots, composts and many of our more delicate living things. 
An Post Delivery, Seeds & books - €1.50
Standard Parcel via An Post* €6.00
Local Delivery, 12km of Windyridge - €15.00
Pallet Nationwide** - €49.00**This will be automatically added to your cart for BBQ's and larger items