Fatsia japonica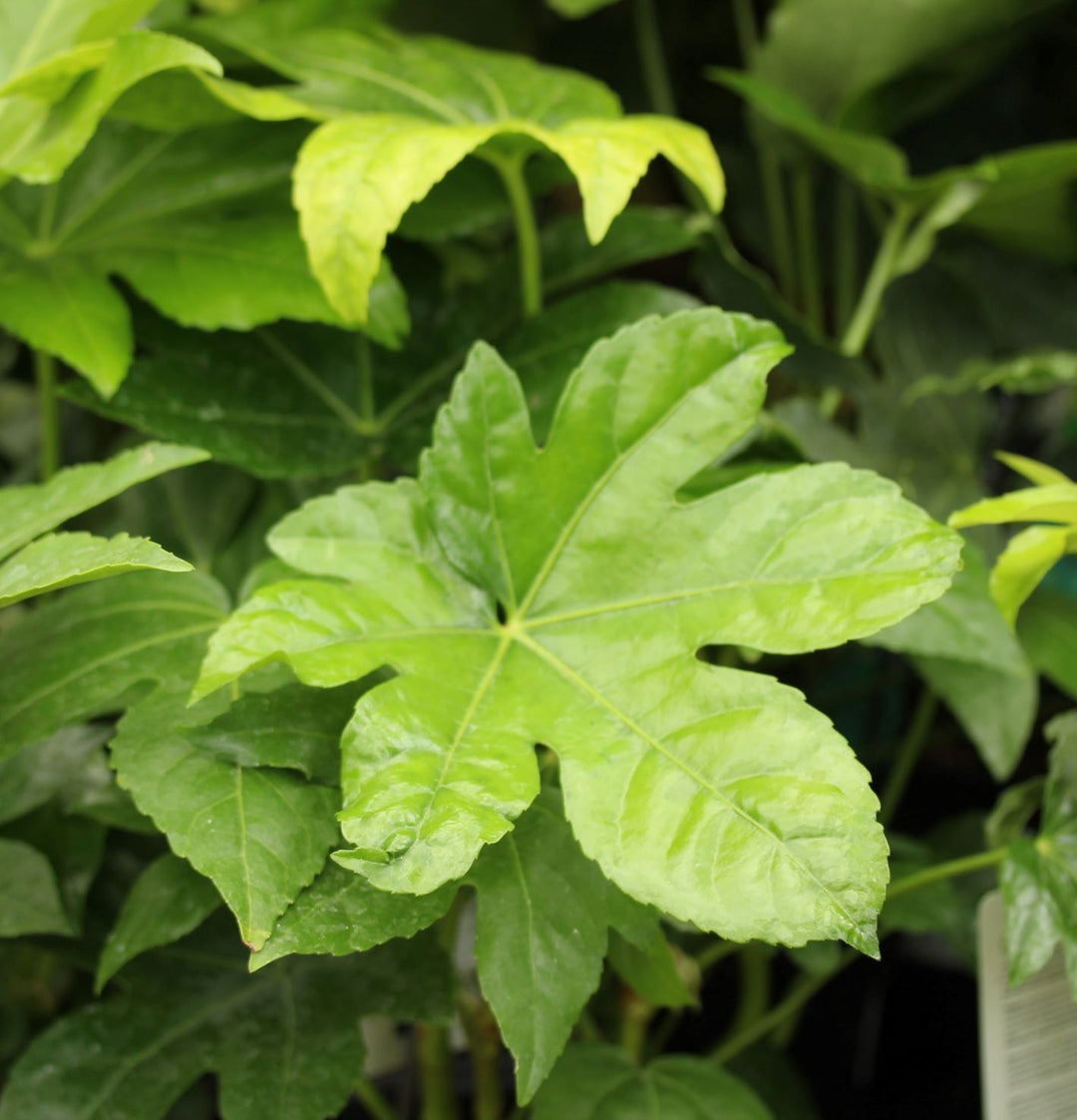 Fatsia japonica
Regular price
€1095
€10.95
Fatsia japonica - Elegant Indoor or Outdoor Greenery
Potted Fatsia japonica
Common Name: Japanese Aralia
Other Names: Glossy-Leaf Paper Plant, False Castor Oil Plant
Indoors or Outdoor: Both
Size: 80-100 cm (Potted Plant)

Fatsia japonica - Delivery
Delivery Info: We ensure safe and timely delivery of healthy Fatsia japonica plants to your doorstep.
Fatsia japonica - Characteristics
Mature Size: Up to 3 meters
Evergreen or Deciduous: Evergreen
Preferred Position: Partial to full shade
Shape - Plant Characteristics: Large, palmate leaves with a glossy sheen
Hardy: Generally Hardy
Diseases: Resistant to most common plant diseases

Fatsia japonica - Uses
Uses in Garden: Ideal as a focal point, in shady areas, or as a potted plant on patios.

Fatsia japonica - Planting Characteristics
Preferred Planting Aspect: Shaded to partially shaded areas
Frost Hardy: Yes, suitable for Irish climate
Fast or Slow Growing: Moderate growth rate
Pruning Advice: Prune in spring to maintain desired shape and size.

Fatsia japonica - Planting Instructions in an Irish Climate
Sowing Time: Best in spring or early autumn.
Trench Preparation: Dig a hole twice the size of the root ball and add organic matter.
Positioning of Plants: Place in a shaded or partially shaded area.
Plant Spacing: Space multiple plants 1-2 meters apart.
Pruning Instructions: Prune damaged or dead branches and control size in spring.
Facts About Fatsia japonica: This elegant evergreen plant is known for its air-purifying qualities, making it a fantastic addition to both indoor and outdoor spaces. Its unique glossy leaves and adaptability to various light conditions make it a popular choice for plant enthusiasts.

Enhance your garden or indoor space with the enchanting Fatsia japonica, a versatile and visually striking plant. Whether indoors or outdoors, it adds a touch of elegance and natural beauty to any environment. With proper care and placement, you can enjoy its lush foliage year-round.
In stock, ready to ship

Inventory on the way
We operate our own delivery service within 12km of the garden centre for €15, for this service we can deliver you any item from Windyridge. 
Outside of this radius we out source couriers, we cannot unfortunately ship a lot of bulkier items such as large pots, composts and many of our more delicate living things. 
An Post Delivery, Seeds & books - €1.50
Standard Parcel via An Post* €6.00
Local Delivery, 12km of Windyridge - €15.00
Pallet Nationwide** - €49.00**This will be automatically added to your cart for BBQ's and larger items