EMPATHY AFTERPLANT EVERGREEN with rootgrow 1kg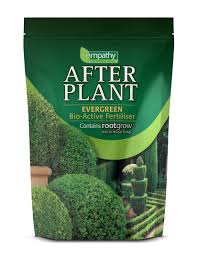 EMPATHY AFTERPLANT EVERGREEN with rootgrow 1kg
Regular price
€1295
€12.95
AFTER PLANT EVERGREEN Bio-active fertiliser with rootgrow™ mycorrhizal fungi and beneficial bacteria is a targeted plant food tailored to the needs of evergreen plants in the garden.
Evergreens planted directly into the ground benefit from the treatment for the first 3-5 years whilst their soot system and fungal partners develop. For containerised plants apply twice per year.
Apply AFTER PLANT EVERGREEN on all pot grown and garden plants to maintain lush foliage all year round.

In stock, ready to ship

Inventory on the way
We operate our own delivery service within 12km of the garden centre for €15, for this service we can deliver you any item from Windyridge. 
Outside of this radius we out source couriers, we cannot unfortunately ship a lot of bulkier items such as large pots, composts and many of our more delicate living things. 
An Post Delivery, Seeds & books - €1.50
Standard Parcel via An Post* €6.00
Local Delivery, 12km of Windyridge - €15.00
Pallet Nationwide** - €49.00**This will be automatically added to your cart for BBQ's and larger items