Angus & Oink Dirty Cow 200g Rub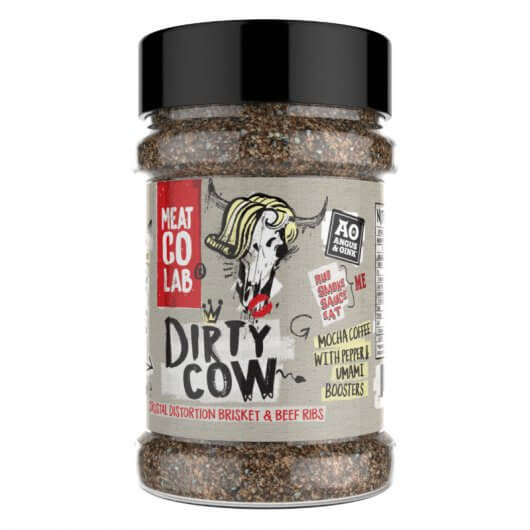 Angus & Oink Dirty Cow 200g Rub
Regular price
€1195
€11.95
Angus & Oink Dirty Cow Beef BBQ Rub was developed to deliver Maximum Crustal Distortion and super bark power for Brisket & Beef Ribs in a low & slow cooking environment. Angus & Oink Dirty Cow Beef BBQ Rub has uber umami impact using both natural and super natural flavour force enhancers.
Angus & Oink grind fresh coffee beans using our bare knuckles, to the right size for rub flow and balance it with deep mahogany javanese sugar, the most superlative sugar out there for Beef.

Finished with black and white pepper, a hit of chipotle and hint of herbs give the spicy crust married with the pronounced bark you are seeking for BIG BEEF.

Flavour runs from from umami to rich beefiness then Chilean oregano and the deep red of the smoked paprika, not forgetting nutmeg and soy sauce powder for ultimate mouth water.

Angus & Oink didn't stop there. They added one last element give the sense of aged beef, that slight irony tang that only dry aged meat gives you. Drool!
Delicious on all beef cuts, but try a low and slow cooked brisket for something special. 
In stock, ready to ship

Inventory on the way
We operate our own delivery service within 12km of the garden centre for €15, for this service we can deliver you any item from Windyridge. 
Outside of this radius we out source couriers, we cannot unfortunately ship a lot of bulkier items such as large pots, composts and many of our more delicate living things. 
An Post Delivery, Seeds & books - €1.50
Standard Parcel via An Post* €6.00
Local Delivery, 12km of Windyridge - €15.00
Pallet Nationwide** - €49.00**This will be automatically added to your cart for BBQ's and larger items