Peace Lily Spathiphyllum Senseo Cupido (17cm Pot)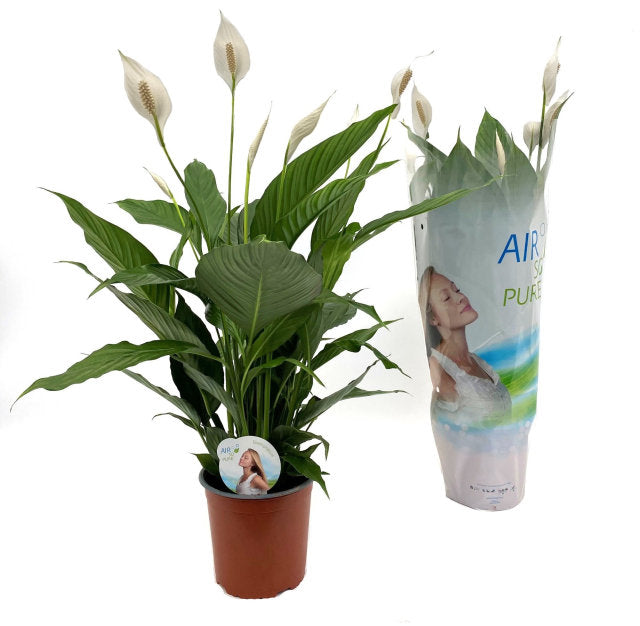 Peace Lily Spathiphyllum Senseo Cupido (17cm Pot)
Regular price
€1995
€19.95
Spathiphyllum Senseo Cupido, also known as Peace Lily Senseo Cupido, is an exquisite indoor plant that thrives in the Irish climate. This particular variety is highly sought after for its unique characteristics and suitability for Irish households.

Height/Spread: Spathiphyllum Senseo Cupido typically grows to a height of 1-2 feet (30-60 centimeters) with a spread of approximately 1-2 feet as well. Its compact size makes it an ideal choice for indoor spaces, optimizing space utilization.

Position: This Peace Lily variety flourishes in partially shaded areas, making it an excellent addition to Irish households. It prefers a location that receives indirect or filtered light, avoiding direct exposure to harsh sunlight. It can adapt well to various indoor lighting conditions, including those found in typical Irish homes.

Soil: Spathiphyllum Senseo Cupido thrives in well-draining, rich potting soil. In the Irish climate, it is crucial to use a soil mix specifically formulated for houseplants, ensuring optimal growth and health. Proper moisture retention while maintaining good drainage is essential for the plant's overall well-being.

Flowering Season: Spathiphyllum Senseo Cupido delights with its beautiful white flowers, which bloom throughout the year in ideal indoor conditions. Its flowering season aligns perfectly with the Irish climate, allowing homeowners to enjoy the plant's elegant blooms regardless of the time of year.

Uses: Spathiphyllum Senseo Cupido is a popular choice for indoor decor in Irish households. Its lush, dark green foliage and striking white flowers create a serene and calming atmosphere. This plant is suitable for various uses, including living rooms, bedrooms, offices, and other indoor spaces. Additionally, Peace Lilies are known for their air-purifying properties, making Spathiphyllum Senseo Cupido an excellent choice for enhancing indoor air quality.
Low stock - 10 items left

Inventory on the way
We operate our own delivery service within 12km of the garden centre for €15, for this service we can deliver you any item from Windyridge. 
Outside of this radius we out source couriers, we cannot unfortunately ship a lot of bulkier items such as large pots, composts and many of our more delicate living things. 
An Post Delivery, Seeds & books - €1.50
Standard Parcel via An Post* €6.00
Local Delivery, 12km of Windyridge - €15.00
Pallet Nationwide** - €49.00**This will be automatically added to your cart for BBQ's and larger items