Cactus (8.5cm Pot)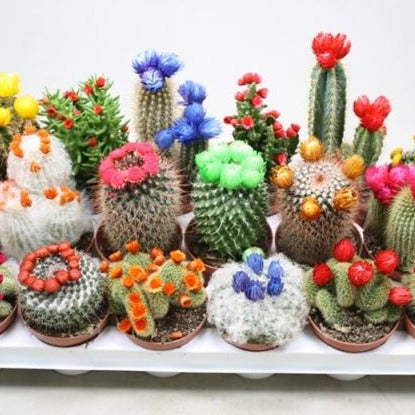 Cactus (8.5cm Pot)
Cactus plants are unique and fascinating succulents that are well-suited for the Irish climate. They are popular among gardening enthusiasts due to their low maintenance requirements and striking appearance.

Height/Spread: Cactus plants come in various shapes and sizes, with heights ranging from a few inches to several feet, depending on the species. Their spread can vary widely as well, but generally, they have a compact growth habit.

Position: Cacti thrive in sunny positions and are well-adapted to the Irish climate, which typically features cool summers and mild winters. They require ample sunlight to grow and should be placed in locations that receive at least six hours of direct sunlight per day.

Soil: Cacti prefer well-draining soil that replicates the arid conditions of their natural habitat. In the Irish climate, it is crucial to use a specialized cactus mix or create a well-draining soil by adding sand or perlite to regular potting soil.

Flowering Season: While not all cactus varieties produce flowers, many do. The flowering season can vary depending on the species, but generally, cacti bloom in spring or summer. The vibrant and often fragrant flowers are a captivating sight and attract pollinators.

Uses: Cacti serve various purposes in the Irish climate. They are popular as indoor plants, adding a touch of unique beauty to homes, offices, and other interior spaces. Cacti can also be incorporated into outdoor gardens, rockeries, or xeriscapes, where their resilience and drought tolerance make them an excellent choice for water-wise landscaping.

In summary, cacti are fascinating plants that thrive in the Irish climate. With their wide range of sizes, sunlight requirements, and striking flowers, they offer a versatile and visually appealing addition to both indoor and outdoor spaces.
In stock, ready to ship

Inventory on the way
We operate our own delivery service within 12km of the garden centre for €15, for this service we can deliver you any item from Windyridge. 
Outside of this radius we out source couriers, we cannot unfortunately ship a lot of bulkier items such as large pots, composts and many of our more delicate living things. 
An Post Delivery, Seeds & books - €1.50
Standard Parcel via An Post* €6.00
Local Delivery, 12km of Windyridge - €15.00
Pallet Nationwide** - €49.00**This will be automatically added to your cart for BBQ's and larger items