FLOWER CARPET GOLD STD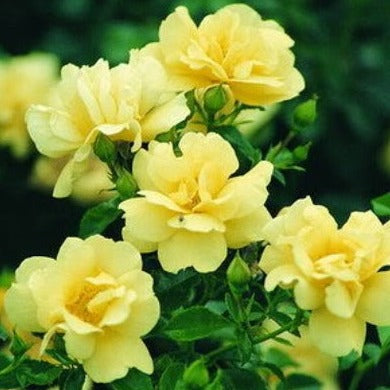 FLOWER CARPET GOLD STD
Regular price
€4495
€44.95
Flower Carpet Gold STD is a remarkable rose variety known for its exceptional performance in the Irish climate. Its attributes make it a sought-after choice for gardening enthusiasts in Ireland.

Height/Spread: Flower Carpet Gold STD grows to an average height and spread of approximately 2-3 feet (60-90 centimeters), making it a versatile rose for various garden settings in the Irish climate.

Position: This rose variety thrives in a sunny location, making it ideal for gardens in Ireland. It flourishes when planted in an area that receives full sun exposure for at least six hours a day. It can tolerate some partial shade, but maximum sun exposure is preferred.

Soil: Flower Carpet Gold STD prefers well-draining soil with a good mix of organic matter. In the Irish climate, it is recommended to prepare the soil by incorporating compost or well-rotted manure to improve fertility and drainage.

Flowering Season: Flower Carpet Gold STD is known for its abundant and continuous blooming throughout the growing season. It starts flowering in late spring or early summer and continues to produce a profusion of golden-yellow blooms until the first frost in autumn.

Uses: Flower Carpet Gold STD offers versatile uses in Irish gardens. It is commonly used as a ground cover rose, providing beautiful golden-yellow flowers that create a stunning carpet-like effect. This rose variety is also suitable for borders, beds, or as an accent plant in mixed garden settings. Its disease-resistant nature and long flowering season make it a popular choice for low-maintenance gardens in the Irish climate, adding vibrant color and charm to outdoor spaces.
In stock, ready to ship

Inventory on the way
We operate our own delivery service within 12km of the garden centre for €15, for this service we can deliver you any item from Windyridge. 
Outside of this radius we out source couriers, we cannot unfortunately ship a lot of bulkier items such as large pots, composts and many of our more delicate living things. 
An Post Delivery, Seeds & books - €1.50
Standard Parcel via An Post* €6.00
Local Delivery, 12km of Windyridge - €15.00
Pallet Nationwide** - €49.00**This will be automatically added to your cart for BBQ's and larger items