Angus & Oink Pigasus 200g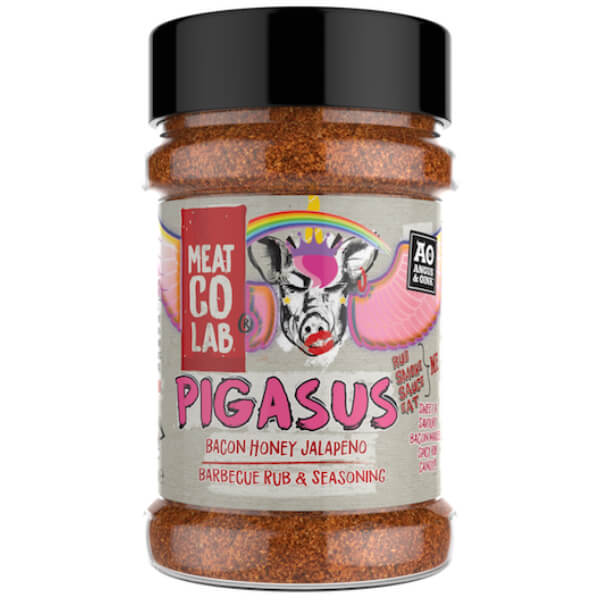 Angus & Oink Pigasus 200g
Regular price
€1195
€11.95
This is the one rub to rule them all. Bacon Honey Jalapeño…seriously what is not to like!!  Angus & Oink use this with Sweet Bones & Butts Rub for the maximum in colour, sweetness and baconised balanced heat. The Jalapeño cooks out well leaving a moreish warmth and background flavour of savoury bacon goodness.
In its prototype form alone, it was used by Tony Northover of Cockney Q at several competitions on ribs and won over the judges!

Try it once and beware of addiction. This will be all over your pig, chicken, chops and chips. You were warned!
Ingredients (Allergens in CAPS & BOLD)

Salt, sugar, paprika, black pepper, celery salt (CELERY), chilli, onion, honey powder, garlic, cumin, turmeric, natural flavouring (SOYA), silicon dioxide, E621, E631.
In stock, ready to ship

Inventory on the way
We operate our own delivery service within 12km of the garden centre for €15, for this service we can deliver you any item from Windyridge. 
Outside of this radius we out source couriers, we cannot unfortunately ship a lot of bulkier items such as large pots, composts and many of our more delicate living things. 
An Post Delivery, Seeds & books - €1.50
Standard Parcel via An Post* €6.00
Local Delivery, 12km of Windyridge - €15.00
Pallet Nationwide** - €49.00**This will be automatically added to your cart for BBQ's and larger items